New technologies used in COVID-19 for business survival: Insights from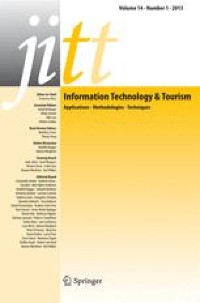 The fundamental role of information and communication technologies is to facilitate business transactions and communicating relevant information to decision-makers. The DeLone and McLean's Information System (IS) Success Model is a widely applied framework for new information technology adoption since its publication in 1992 (DeLone and McLean 2003). The model identifies and describes the relationships among six critical dimensions of IS success: information quality, system quality, service quality, system use/usage intentions, user satisfaction, and net system benefits. The following section will discuss about the new technologies used in the pandemic based on this framework.
Information quality
Information quality captures the quality of content that the system presents. According to DeLone and McLean (2003), the content of an information system should be personalized, complete, relevant, and easy to understand. Currently, many interviewed hotels are using live promotion in various live-streaming platforms to help their potential customers to get complete, detailed, timely, accurate, reliable, and selective information.
Live promotion in live-streaming platforms
Social media have considerably changed service industries, such as the hospitality and tourism industry. The emergence of Web 2.0 provides online social spaces for real-time connectivity among businesses and Internet users by easily creating and exchanging information. Social media provide low-cost and efficient management of online information exchange and relationships, including social networking, offering information for travelers, and carrying consumer generated content about products, brands, services, and issues. Through social media, companies have more opportunities to reach customers and sell products. During the pandemic, promotions through social media have become the default working operations for many Chinese companies. For example, popular video platforms Douyin and Kuaishou have each gained 100,000–500,000 new followers in two-week periods since late January 2020 (Fannin 2020). Many hotels and resorts have turned to the latest popular online entertainment trend—live streaming. They also collaborate with celebrities who act as a tour guide to introduce the hotel or resort offerings and latest discounts. In this study, the interviewed hotels are following this trend. From a networking perspective, live streaming enables viewers to communicate and share ideas. Various hotel operations for live streaming can attract hotel consumers, from food cooking in the kitchen, hotel room tours, to even wedding exhibitions held in banquet halls. Popular live-streaming platforms, therefore, enable the hotel to create online communities and generate meaningful discussions in its product offerings and attract more hotel guests.
Live-stream conference to replace face-to-face conference
During the pandemic, Chinese lifestyles have been quickly adapted to a new virtual reality, including e-learning, e-commerce, e-entertainment, live-stream conferencing, and remote working. Since lockdowns and quarantines have been in effect, brick-and-mortar businesses such as restaurants, hotels, retail outlets, and travel companies have been on the losing side. However, new business opportunities have also emerged. Several Fortune 500 companies in Guangzhou, China choose hotels to conduct live-stream rather than face-to-face conferences because hotels have 5G networks, hardware, and experience. Live-stream or virtual conferences are expected to have a significant impact on the business hotel industry given their unique benefits for both conference organizers and attendees. For organizers, virtual conferences can create new and lucrative opportunities in terms of increased content delivery options, more robust networking, and extend sponsorship options. For attendees, benefits include decreased health risks, travel time, and costs. Several organizations and businesses have already chosen to hold their events virtually. According to the Center for Exhibit Industry Research (2009), 40% of corporate brand marketers and 31% of exhibition marketers hold virtual events; 71% of respondents use virtual reality to accommodate geographically widespread workforces and customers.
System quality
System quality refers to the desired features of a typical information system, including usability, availability, reliability, response time (e.g., download time), and adaptability. During the pandemic, live-stream conferencing and remote working becoming more common for both hotels and their guests. According to the interviewees, the improvement of system quality is one of the key factors for operation efficiency and guest satisfaction. Technologies of 5G and Wi-Fi 6 are introduced to improve the system quality.
5G technology
The COVID-19 pandemic has caused more businesses to turn to digital applications to enable a work-anywhere economy and mitigate the risk in daily operations. In a way, the COVID-19 pandemic accelerates enterprise demand for 5G technology solutions, the fifth-generation technology standard for cellular networks. Compared with 4G technology, 5G networks provide the main advantage of greater bandwidth and faster download speeds of even up to 10 Gigabits per second (Gbps). Given that millions of people have to stay and work at home, network bandwidth has become increasingly important.
Although its peak data rate is satisfactory for most of today's applications, 4G is insufficient to support the growing number of devices being introduced into wireless networks every day. 5G networks provide the solution to manage connections for these new devices and apps. 5G networks not only create better connectivity for communications but also enable intelligent connectivity using artificial intelligence (AI), cloud, big data, Internet of Things (IoT), and other platforms. For example, the combination of 5G and AI in the hotel industry can enable swift check-in and payment through facial recognition, which leads to dramatic improvement in service efficiency and security.
4G and Wi-Fi at times encounter network congestion, which is assumed to be a rare occurrence for 5G networks. In one Westin hotel, the fast and stable 5G networks have ensured the online meetings of hotel guests went smoothly and productively. In one IHG hotel, 5G also supports increasingly popular services such as 4 K or virtual reality (VR) live streaming and allows meeting participants to share text, images, and even short videos in real time.
Wi-Fi 6
Wi-Fi 6 is designed for high density implementations and hotel industry will benefit conference areas, lobby and restaurants with faster speed and coverage. Where Wi-Fi 6 focuses on internet indoors, 5G is the preferred solution for outdoor use.
Service quality
Service quality refers to the overall support delivered by the service provider, which applies regardless of whether the support is delivered by the IS department or a new organizational unit or is outsourced to other service providers (Delone and McLean 2003). During the pandemic, hotels are employing AI technology and Robots to improve their service quality.
Event facial check-in services with AI temperature checks
AI has proven to be increasingly beneficial to hotel practitioners. For example, the ease and efficiency of check-in and check-out experience are improved by giving hotel guests access to their rooms/venues using facial recognition software. The integration of 5G, AI, and live streaming also presents considerable potential for development of real-time, customized service networking system for hotel guests based on real-time data.
Due to the COVID-19 pandemic, facial recognition hardware companies have developed a solution for noncontact body temperature measurement plus facial recognition to meet the rapid need to control the virus in time. Several Guangzhou hotels have deployed such a system. This technology can not only reduce the risk of cross infection but also improve traffic efficiency, which saves time and reduces congestion of hotel employees and guests.
Robots used for F&B room services and housekeeping deliveries
The pandemic is prompting several industries to adopt "contactless" options. Shopping malls, large or small, are expected to use robots to increase social distancing and reduce the number of staff that must physically come to work. Robots are also being used in Guangzhou hotels for roles that hotel staff cannot perform during the pandemic period. From preparing F&B in room dining services, doubling as waiters in hotel restaurants, delivering housekeeping items, dispensing facemasks and hand sanitizers, robots are used on the frontline to protect hotel guests and employees and prevent the spread of COVID-19. The robots not only help protect guest health and prevent the virus spread, but also enhance service quality and customer satisfaction.