Post COVID-19: Survival requires good plan, support of FG —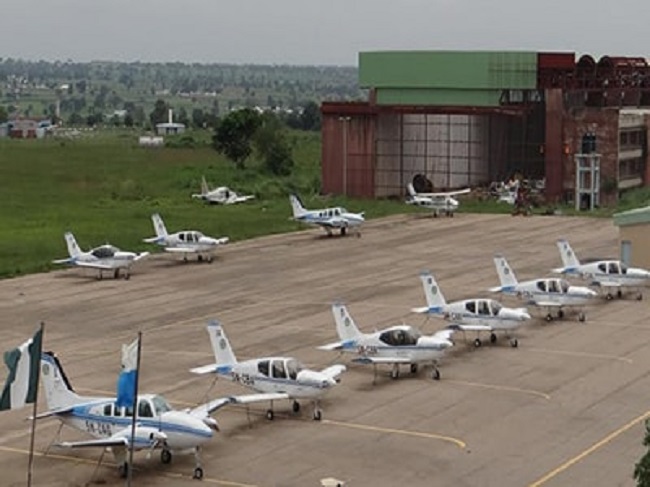 "For the Nigerian aviation industry to overcome its myriad of challenges and compete favourably in the new order, it requires a well-orchestrated recovery plan supported by the government and the external agencies."'
<![CDATA[(function () { var domain = 'tribuneonlineng.com'; var slot = 'w2g-slot1'; if (window.self !== window.parent) { var d = top.document, w = window.parent; var parent = this.frameElement; parent.style.display = "none"; } else { var d = document, w = window, parent = null; if (typeof d.currentScript !== 'undefined') { parent = d.currentScript; if (parent == null) { parent = document.getElementById(slot + '-cnt'); } } else { parent = d.body.lastElementChild; } } d.addEventListener('wtgLoaded', function (e) { if (typeof w.w2g.single === 'function') { w.w2g.single(domain, slot, parent); } }, false); if (w.w2gLoaded === undefined) { w.w2gLoaded = 0; } if (w.w2gLoaded
These were the words of the Rector of the Nigerian College of Aviation Technology, Zaria, Captain Alkali Modibbo at a conference organized by the League of Airports and Aviation Correspondents (LAAC) with the theme: Nigeria's Aviation Industry: Management, Policy and Regulation'.
While identifying the importance of cooperation among all stakeholders as the best way through which the country's aviation sector can outlive the present crisis created by the coronavirus pandemic, Modibbo declared that the sector at present required direct injection of continued financial support, provision of credits, offer of deferrals and discounts on charges and most especially concessions.
Lamenting how the airline sub-sector globally was facing a "throat-cutting" competition especially from low-cost airlines amidst dwindling passengers due to the pandemic, Modibbo said that airlines on the continent were worst hit by the crisis.
Coming to Nigeria, he decried how the airline sub-sector continued to face unpredictable cost, due to what he called the devaluation of naira against the foreign currencies coupled with the irregular availability of aviation fuel, regretting that these among others, added up to the operational cost and technical of airlines.
His words: "As a result, operational services deteriorated when normal flight services were resumed, followed by frequent scheduled flight challenges and exorbitant ticket prices. This could be a symptom of the larger financial strain that airlines currently face. Fortunately here in Nigeria the airlines are tremendously picking up tempo with an encouraging passenger turn out".
He however, commended the Federal Government for investing in infrastructure across the country's airports despite the plans to privatize or concession the aerodromes.
He took time off to challenge NCAT on the need for the aviation college to upgrade its curriculum in tune with the current situation of heightened operations, security, sanitation and the digital transformation of the industry.
"We need to look deeply into the changes, which the aviation value chain is undergoing to enable us design the training requirements that will critically produce the workforce a post-pandemic aviation industry will require," he added.
YOU SHOULD NOT MISS THESE HEADLINES FROM NIGERIAN TRIBUNE
Buhari Urges MTN For Quality Service, Downward Price Review In Cost Of Data, Other Services
President Muhammadu Buhari Friday at State House Abuja urged the MTN Group to make the available top-of-the-range service to its Nigerian subscribers…  Survival requires good plan, support of FG  Survival requires good plan, support of FG  Survival requires good plan, support of FG  Survival requires good plan, support of FG .
Source